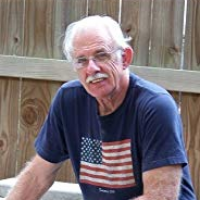 Charles C. Brown
Mysteries
Profession

Retired High School English Teacher
Charles Brown decided to major in English and minor in history in college because he planned to be a writer and thought both would help him. He figured the teaching profession would allow him time to write, but he soon learned that teaching didn't leave much time for writing--not when he soon had a wife and three children to support. So the writing was put on the back burner until he retired.

Now the nest is empty and there's time to write. His wife, Carolyn Brown, is a romance author so she understands what it means to have deadlines and characters running around in an author's head.

Brown graduated from high school in Mt. Union, Pennsylvania, from college at Southeastern State University in Durant, Oklahoma and taught high school English in three states, Kansas, Oklahoma and Texas, before he retired in 2008. He served three years in the Army, spending most of that time in Germany. He and his wife, Carolyn, have three children and enough grandchildren to keep them young.
Knowledge is the eye of desire and can become the pilot of the soul.
Will Durant
Ways to reach Charles C. Brown